to
Our Poultry Page
This page contains information about, and pictures of, the various breeds of poultry that we personally have experience raising. Information has been obtained through personal experience and observations, from other persons raising poultry and several books available about the raising of poultry.
Disclaimer on home page applies to all contents.

Red Cedar River Birds and Game no longer raises standard poultry. We still raise a few bantams, Japanese and Old English Game. Pictures and information will be uploaded as they become available.

The bantam breeds:

Japanese Bantams or Chabo's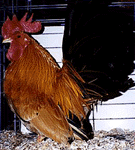 A Black Tailed Buff male Japanese Bantam. Photos courtesy of Feathersite.

The Japanese Bantams are a very old breed of true bantams, not miniatures of a large fowl. They occur in various colors. They are a very small quaint fowl that carries it's long tail high and well forward so that there is a distinct "U" between the tail and the head. They should have very short, clean legs and an evenly serrated single comb which is rather large on the males. The face and ear lobes should be a bright red. This breed does not require a lot of space making it an easy fowl to keep. They do like to forage but many persons keep them in small pens. They do very well on a normal chicken diet and are truly a pleasure to raise.

Our egg layers:

We are starting out with a new, very small, flock of Isa Browns. Pictures and information will be uploaded as they become available.


Persons have visited this page since June 2 1999.

If you have enjoyed this site, please take a moment to sign the guestbook at the bottom of my home page.
Use your back button to return to my home page or click the link below.
Last revised January 18, 2001.